3 Feb 2010: Crema (prequal from 30 Jan)
Driver





Posts

: 265


Join date

: 2009-09-01


Age

: 33


Location

: Milano

direi di si!

Sono ancora rimasti a disposizione alcuni posti nel gruppo B. Chi volesse aggiungersi al gruppo non deve far altro che iscriversi al nostro campionato.
Ricordiamo a tutti i piloti che le qualifiche ufficiali e le gare di Gruppo A e Gruppo B si terranno contemporaneamente.
Alcuni piloti non hanno ancora sottomesso il proprio replay. Sono pregati farlo al piu' presto.
Abbiamo assegnato le skin ai piloti che non avevano effettuato una scelta.
Qui un sunto delle verifiche effettuate e delle skin da utilizzare
In bocca al lupo a tutti per la gara!
Appuntamento per tutti
nella nostra chat
alle 21.15.
Meeting in chat 21:15
Breifing starts 21:30
Qual 30 min
We still have some places available in group B. If you want to join just subscribe to our championship.
Group A and Group B will race at the same time.
Some drivers haven't submitted their replay, yet. Please do so as soon as possible.
We assigned skins to all drivers.
You can see a complete list of time verification and skin to be used here
Good luck to you all for tomorrow race.
Meeting in our forum chat 21:15
Breifing starts 21:30
Qual 30 min
The verification team did a fantastic work analyzing all the replays in depth.
We found only one irregular action, and we decided to show you all, as an example:
This is not valid because
Drivers must have
two wheels touching (in any way) or be exactly vertically above the track at any time during the lap
. The track consists of the
tarmac between the white lines, the white lines itself
, the regular curbs. Curb-extensions (like green or grey extensions to be seen at for example A-1 Ring, Imola, Suzuka, Magny-Cours or Silverstone) do not belong to the track.
Here the full sequence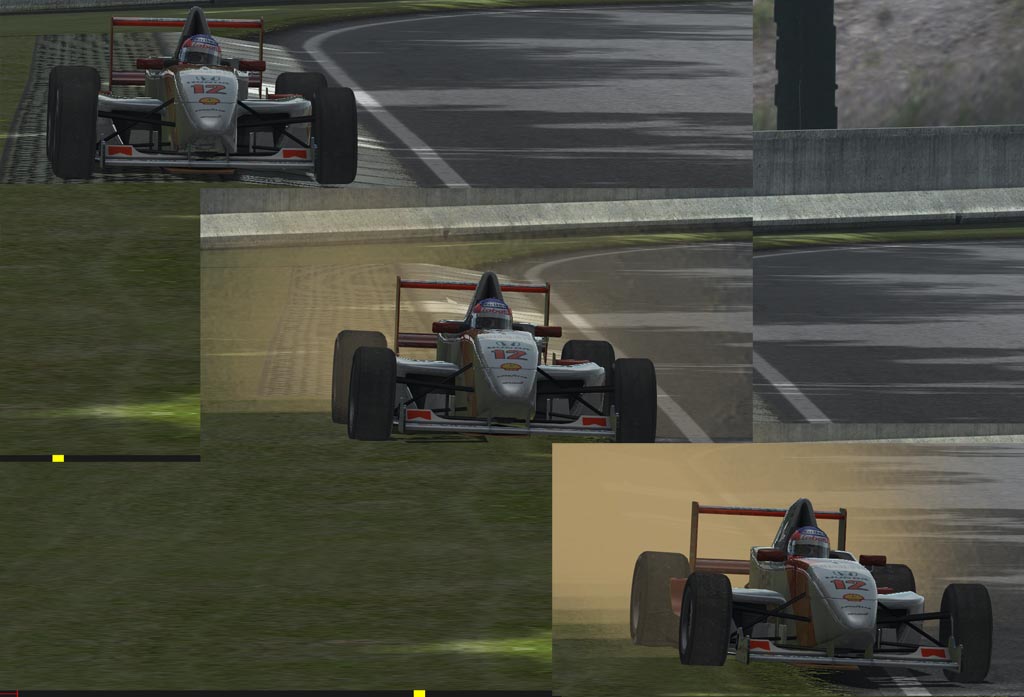 As you can see he is out of track for a fraction of time.
The VT decided to add +0.5 seconds to the prequalification time.
We know that the driver (the name is not mentioned here on purpouse) who posted this replay was constantly around the time he submitted, and he didn't notice this infraction by him self.
This is not anyway changing the current classification.
We wish this could be an example for everyone.
Before sending your replay, please check your replay carefully.
Driver





Posts

: 145


Join date

: 2009-06-06


Age

: 39


Location

: ischia

Ragazzi scusate per ieri sera credevo che qualcuno mi aveva toccato da dietro invece guardando il replay mi sono accorto che ero passato con le ruote esterne sull erba e come ho impostato la curva il posteriore è partito di colpo quindi alla fine sono io che ho rovinato la gara agli altri per il prossimo evento prenderò parte solo alle pq perchè mercoledì prossimo sono impossibilitato a partecipare alla gara