28 March 2013: Gallardo B-DAY @ A1-Ring

Andrea Lojelo

---







Posts

: 12576


Join date

: 2009-04-26


Age

: 42


Location

: Den Haag

yes, come in the server now
server password: rsr
_________________

Vincent Buccarello

Driver





Posts

: 122


Join date

: 2012-08-13

Hope you had some fun...
Does anyone have Race results or at least the podium to congratulate

M Waechter

Driver





Posts

: 755


Join date

: 2010-08-16


Location

: Germany

Posting the results, like I did at the F2000 Imola special event. It had been a good and nice event:
replay
[click on 'click here to downlowad from sendsp..']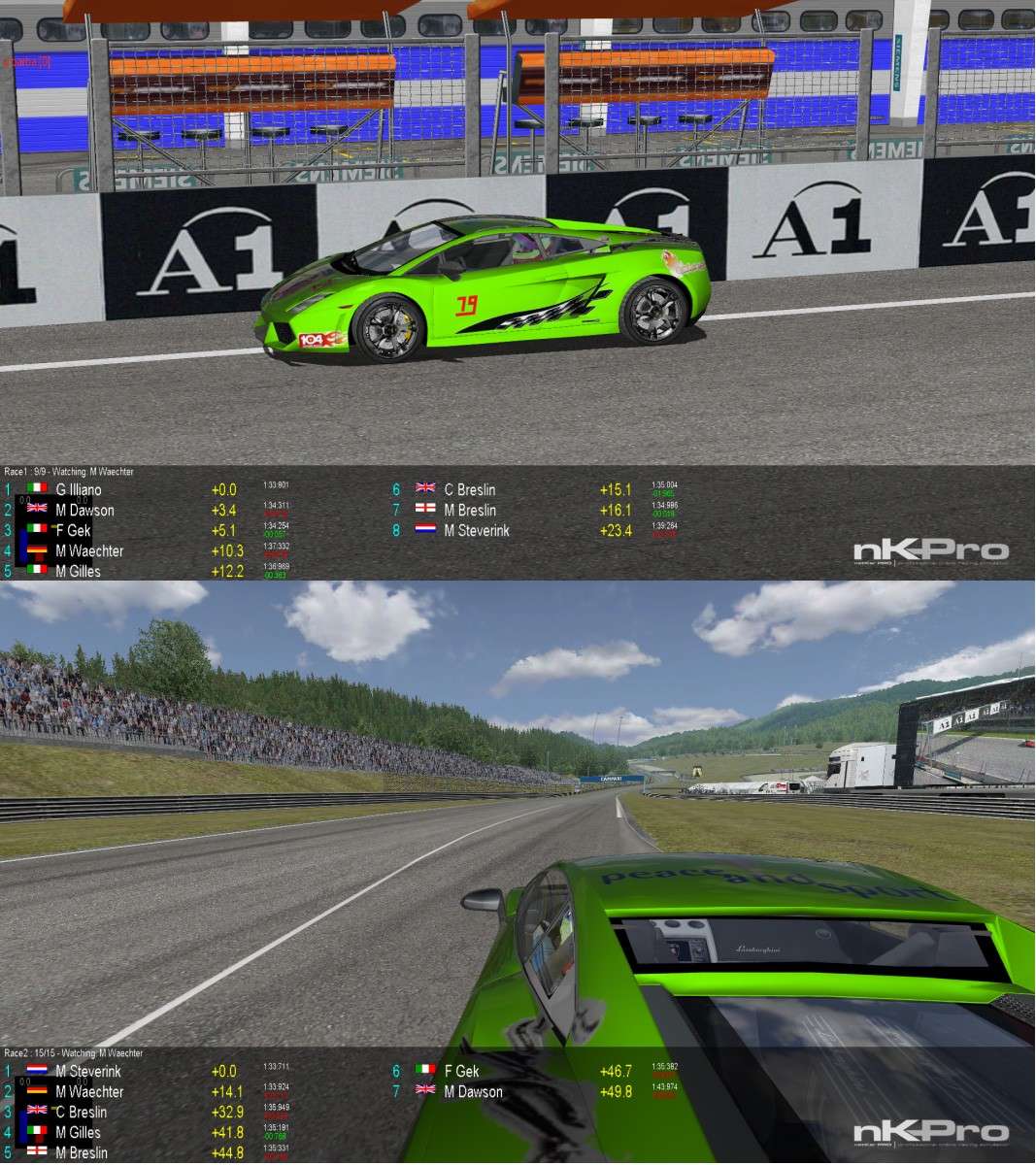 Qualy results looked like:
1. Maarten Steverink [1:32.7 min.], 2. Marco Waechter [1:33.4 min.], 3. Gianluca Illiano [1:33.5 min.], up then from 4. pos. onwards, I don't remember exact laptimes
, didn't make a screenshot of qualy results either.
Race 1 [my fl: 1:33.7]: At the start my & Marios car touched lightly in the apex of turn 1, so I lost 5 positions because of that light touch. Nothing serious happened beside a very light handling damage. At first I thought he was too optimistic in t1, but then in the replay I recognized that we were side by side, which I did not expected, and I also did not leave enough space for both of us getting through (should have tried driving even more on the outside line through the apex).
At the last lap(s) I was catching up to F. Gek, who was on pos. 3, with getting around 1 sec. behind him on the last lap. Then exactly at the apex of he last turn of the last lap, I ran out ouf fuel
, but I still could roll out over the finish line at about 20 km/h gladly and keep my position. I was on a personal fastest race-hotlap on that lap [more than 3 tenth quicker at sector 1 to my previous 1.7 race fl] and without running out of fuel the gap to the third driver at the race finish would have been like 6.1 sec. and not 10.3 sec.
.
Maarten braked too late into t1 at lap 2 and got off track, I just mention, if you wonder what happened to him in Race 1.
Race 2 [my fl: 1:33.5]: Clean race. At that race Maarten and me were overall the quickest, but I never could have been a serious challange for him, he was doing some laptimes from another planet
. I did almost the maximum I could do, there are always little things that could have been done better, but there was no serious mistake, my laptimes ranged between 1:33.5 - 1:34.1 [with one 1.5 including a little mistake]. Maarten of course managed to put in several high 1:32.x, like in qualy
and that without any mistake on his laps as well.
btw.: Though there are not so much different setup configurations that could be done with this street car, it is as well at least equal important at this car to set every single parameter to the best value, especially all the suspension parameters fast bump/ -rebound and slow bump/ -rebound and everythning else as well. With only the slightest change at certain points, I could not have done the 100% same, good performance.

Gianluca Illiano

Driver





Posts

: 16


Join date

: 2012-04-07

It's been a good race
even though it was a bit lonely
Sadly my internet connection went away on race 2 start .. when I was ready it was too late
It would have been a good race since I and Marco had the same lap times more or less
Maarten should stop using his rocket and start using the Gallardo