Mauro Delega' is creating from scratch a new track for netKar PRO: Mugello. A wonderful track located in Tuscany, Italy.
Everything started when Riccardo De Rosa started teaching us how to model a track. He created some really nice and useful video tutorials that guided us through the basics of track modeling.
We started getting really excited about it, so we started our own projects.
From the beginning of October 09 Mauro is working on Mugello track, doing the first experiements and learning how to use 3d studio max.
We had a breakthrough when we thought to use Google Earth and Google SketchUp to have a realistic altimetry of the track.
Unfortunately google's map is not as accurate as we needed, but that gave us a good rough idea of the world layout around Mugello track.
Here the initial stage of the work in 3dstudio Max after importing the model from SketchUp:
Spineline
Sectors
Surface
Once the preliminary outline was there, Mauro started checking a lot of videos, images and drivers comments to refine the first draft made importing the maps from Google Earth.
On November 15th 09, already, we could run for the first time on it.
Of course it was really rought at the beginning, but it was clear from the beginning that Mauro was on the right track!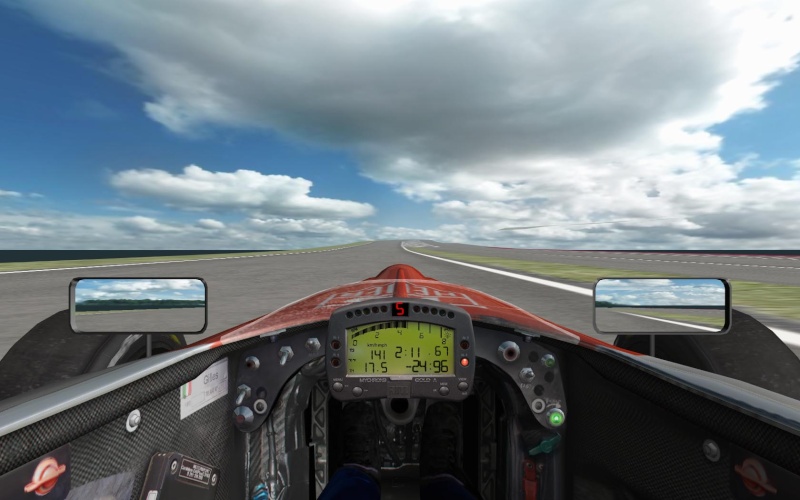 All members of Radiator Spring Racing Team got involved looking for videos.
Just by coincidence we found out that one of our team members, Lorenzo Scotti, had posted a nice video with him driving at Mugello:
We started comparing this video with our brand new nK track to give suggestions on how to refine the first layout.
Mauro started the difficult work of remodeling. Every small difference is taking a lot of time and effort, expecially for a newbie.
Little by little Mauro's track is getting closer and closer to the real one. Small bumps added, high levels of the track, track width, cambers, kurbs, sandbox, hills, walls and so on.
Pit entry
Arrabbiata2
San Donato
Here a
first video
done on the Tue Nov 24 2009 after the first modifications:
(sorry for the bad quality of the video. it's starting after 23 seconds)
this is just to give you an idea of how the track looked like at the beginning
Riccardo in the meanwhile was working on recreating the box.
and Mauro incorporate it on the track
Andrea created instead the box/pit/grid/pitboard, so that the track could be ready for an online test.
We were so excited when we found a new video: Gabriele Larini driving a 500 Abarth at Mugello
After few internal realeases in which Mauro was maily focused on the track, finally he stated addind the first few objects around the track.
Here is the first group of trees he have planted

Here is the current status of the track:
Check this new video
Abarth Mugello WIP4 [Andrea Lojelo] Mon Dec 14 2009
It's nice to compare this video with the real Abarth driven by Larini.
You will notice that the two cars are pretty similar.
We are aware that there is still plenty of work to be done, but we wanted to share with you the progress of the new born track!
Every release we analyze the track meter by meter, comparing it with the 2 videos above, adding new items to the improvement list.
Here is the latest screenshot on 3dStudio Max
...To be continued
I want, once again, to thank Mauro for the great work he is doing, spending hours and hours to create a new track on which we can have some fun!